Bitstamp is on the rise and has now listed Shiba INU
Ever since Shiba Inu arrived, it has captured the imaginations of many crypto investors and the interest of crypto exchanges. That says a lot about a memecoin that's whose current price stands at a mere 0.000010USD.
That price saw some increase on June 6th 2022, when, at the request of the community, popular cryptocurrency exchange BitStamp finally added support for Shuna Inu.
The Shiba Inu price on that day increased from 0.00001082 to 0.00001135. While it is nowhere near its all-time high of 0.00008 that it achieved in 2021, it is still a good uptick for a memecoin.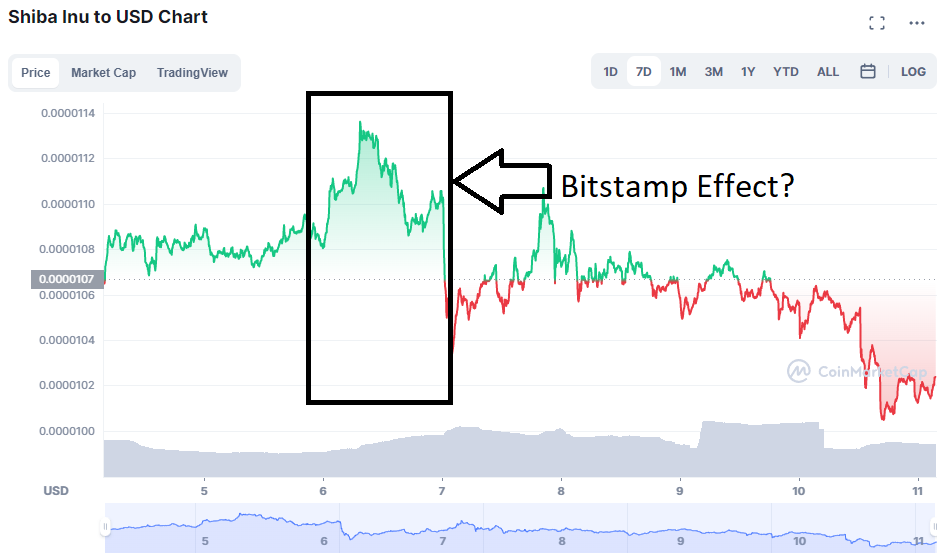 Bitstamp is on the Rise – but it has been slow
Bitstamp launched in 2011. That is why we can say that within the context of the crypto market, it is pretty old. However, the growth of this crypto trading platform has been slow so far. Reviewers have cited several reasons, ranging from the platform's lacklustre staking programs to the hack it suffered in 2015, behind its slow ascent.
However, those who've been watching this exchange closely have applauded the efforts it now takes regarding security. The cryptocurrency exchange isn't completely bullish on adding new coins. It instead opts to step back, watch the trends, observe the community, and then decides to add cryptocurrencies carefully.
Many see this as a drawback, but Bitstamp perceives it as caution. And it seems that the crypto trading platform is now ready to jump in and add cryptos in bulk.

So far, it has added 73 cryptocurrencies that include
Gaming Coins such as GALA, Gods Unchained, Smooth Love Potion
NFT coins such as Axie Infinity, Sand, ENJ
DeFi Coins such as Maker, UNI and more.
Besides these tokens, the platform is bullish about gaming and runs the Bitstamp Gaming team.
It has partnered with Guild Esports PLC, a global esports organization and lifestyle brand that supports professional esports teams for games such as FIFA, Valorant, Fortnight, and more. The cryptocurrency exchange has also teamed up with Immortals, a US-based professional esports organization that hosts gaming communities, players, gaming content creators and influencers.
Bitstamp Pros and Cons
Bitstamp is similar to other cryptocurrency exchanges as it has many pros and cons.
Pros 
Best trading fees: Investors consider Bistamp as the best cryptocurrency exchange when it comes to trading fees. It takes a straightforward approach to costs, taking your 30-day trading volume into account. In fact, the highest trading fee on Bitstamp is only 0.50% – far lesser than some of the most well-known crypto exchanges.
Easy to use platform for beginners: Bitstamp allows users to do one thing – trading cryptocurrencies. Thus, it doesn't have an overly complicated interface for beginners. Just choose your cryptocurrency, select the amount and start trading.
Advanced Platform is available for seasoned investors: Veteran investors will find Bitstamp's Tradeview to be quite a nuanced utility. The charting features it provides are robust, and the trading forms are many. One thing to note is using the advanced platform won't you anything extra. So, if you're a novice curious about the trading view, just switch to the advanced format and see the trends of your favourite cryptocurrencies.
Efficient Mobile App: If you're an investor on the move, Bitstamp's mobile is the right fit for you. Check your portfolio and make trades just as easily as you would if you were at home on your PC.
One of the first crypto exchanges: Although we've already stated that the platform grew slowly, it has quite a few years under its belt. The founders are proficient. The platform is now safer (than in 2015) and has more than a few cryptocurrency options.
Cons
Still behind other exchanges when it comes to the number of cryptocurrencies: Investors who want to create a particularly diverse portfolio won't find much use in Bitstamp. Whereas platforms such as eToro, Crypto.com and Binance provide hundreds of cryptocurrency options, Bitstamp has just recently hit 73. Another matter to consider is that the platform isn't too keen on listing altcoins.
The staking program is nothing to write home about: Investors are not looking for crypto staking opportunities to earn passive income while not dealing with the crypto market's volatility. Bitstamp has a staking platform, but the options it provides are few. You can only stake two tokens, US investors can't stake any of them, and the Bitstamp has the highest staking reward commission – 15%.
Security issues: Bitstamp suffered one of the most catastrophic hacks in 2015. It resulted in it losing 19000 BTCs – worth $5 million at the time. Perhaps, it is one of the reasons that cryptocurrency markers aren't too bullish about Bitstamp.
Conclusion
Bitstamp is hitting strides again. Now that it has listed Shiba INU, investors are hoping it will list Dogecoin next.
That might not be possible as Bitstamp's boss has specifically said that the platform won't list crypto that crashes on a Billionaire's tweet.
If for nothing else, Bitstamp's dedication to maintaining stability in an otherwise volatile crypto market is commendable, to say the least.
Read More
Lucky Block – Our Recommended Crypto of 2022
New Crypto Games Platform
Featured in Forbes, Nasdaq.com, Yahoo Finance
LBLOCK Token Up 1000%+ From Presale
Listed on Pancakeswap, LBank
Free Tickets to Jackpot Prize Draws for Holders
Passive Income Rewards – Play to Earn Utility
10,000 NFTs Minted in 2022 – Now on NFTLaunchpad.com
$1 Million NFT Jackpot in May 2022
Worldwide Decentralized Competitions
Cryptoassets are a highly volatile unregulated investment product. No UK or EU investor protection.