While crypto promises a world of decentralized finance, we're still several years away from making the transition. Crypto is still finding its way into the current financial ecosystem and isn't entirely reliable yet.
There comes a major issue when a decentralized ecosystem has to interact with the centralized ecosystem. And the Band protocol comes into play to solve this exact problem.
Recently, the Band token witnessed a 20% rise and as a result, got investors curious.
So, is this the right time to buy? We would discuss it ahead.
Your capital is at risk.
What is Band Protocol?
Band protocol is a data oracle that collects real-world data and sends it to smart contracts on various blockchains.
Real-time data is incredibly essential for decentralized applications and smart contracts in order to function. Weather or current events are common examples of the same. Essentially, the protocol makes the interaction of external data and on-chain environment possible.
As per the project's whitepaper, "Band Protocol intends to solve data accessibility and data reliability in a fully decentralised manner. This includes how Band provides data endpoint such that any smart contracts can easily consume real-world data and data governance mechanism to ensure data integrity."
Also, "While Band is initially built on top of Ethereum, the protocol itself is blockchain-agnostic and will eventually be supported on all major smart contract platforms. Band's vision is to become the decentralised world's go-to database, which any decentralised programs or applications can rely on for trusted data."
Along with Ethereum, the platform also supports blockchain like Cosmos.
The project was founded in 2017, by Soravis Srinawakoon, Paul Nattapatsiri and Sorawit Suriyakarn, who currently serves as the company's CEO, CPO and CTO respectively.
The BAND Token 
BAND is the native token of the Band Protocol. It incentivises the creation of new blocks, helping keep the network functioning. There are several ways the token is being utilized.
To begin with, the token can be treated as collateral and used for issuing record tokens. Secondly, it gives token holders the ability to participate in the governance of the chain. And finally, these tokens can be staked, under the Proof-of-Stake mechanism, enabling stakers to earn rewards.
The inflationary model for the band token incentivises token holders to delegate their crypto tokens, instead of simply holding their assets in a wallet. This is why the value of the Band tokens decreases with time. The inflation parameters currently range between 7% to 20% annually, and necessary adjustments are made to ensure that 66% of the total token supply is staked.
Upon staking, network participants will have their holdings be in a ratio constant to the total supply, then otherwise, if they choose to not use their coins for any network activity. These tokens can also be used in asset-pricing feeds, to conduct payment services. Wherein an aggregator provides the collected data to decentralized applications.
The BAND token was initially launched through an initial exchange offering on Binance. Wherein selected users were offered the token for $0.473, and a total of 27.37 million tokens were sold.
Visit Crypto.com to Buy BAND Now
Your capital is at risk.
How has BAND Performed So Far?
For about six months after its launch in 2019, the token maintained a price in the range of $0.20 to $0.40, reaching a high of $0.65 in March 2020, before its first major price movement.
As April approached, the coin crossed the $1 level for the first time. Increasing gradually, the price almost managed to touch $2 in the middle of the year but fell short by about $0.16. However, it did set up a new all-time high until then, at a price of $15.46 in the month of September.

The price soon took a plunge and kept being volatile for a while, moving sideways, trading at an average of $5. This remained to be the case until the end of the year.
In the very first month of 2021, the coin began to show an upward trend again. Where the price continued to rise, and reached $21, setting a new all-time high in April that year. The price remained to be somewhere in proximity to that number for about a month more before it took a nosedive and landed at $5.2 in the month that followed.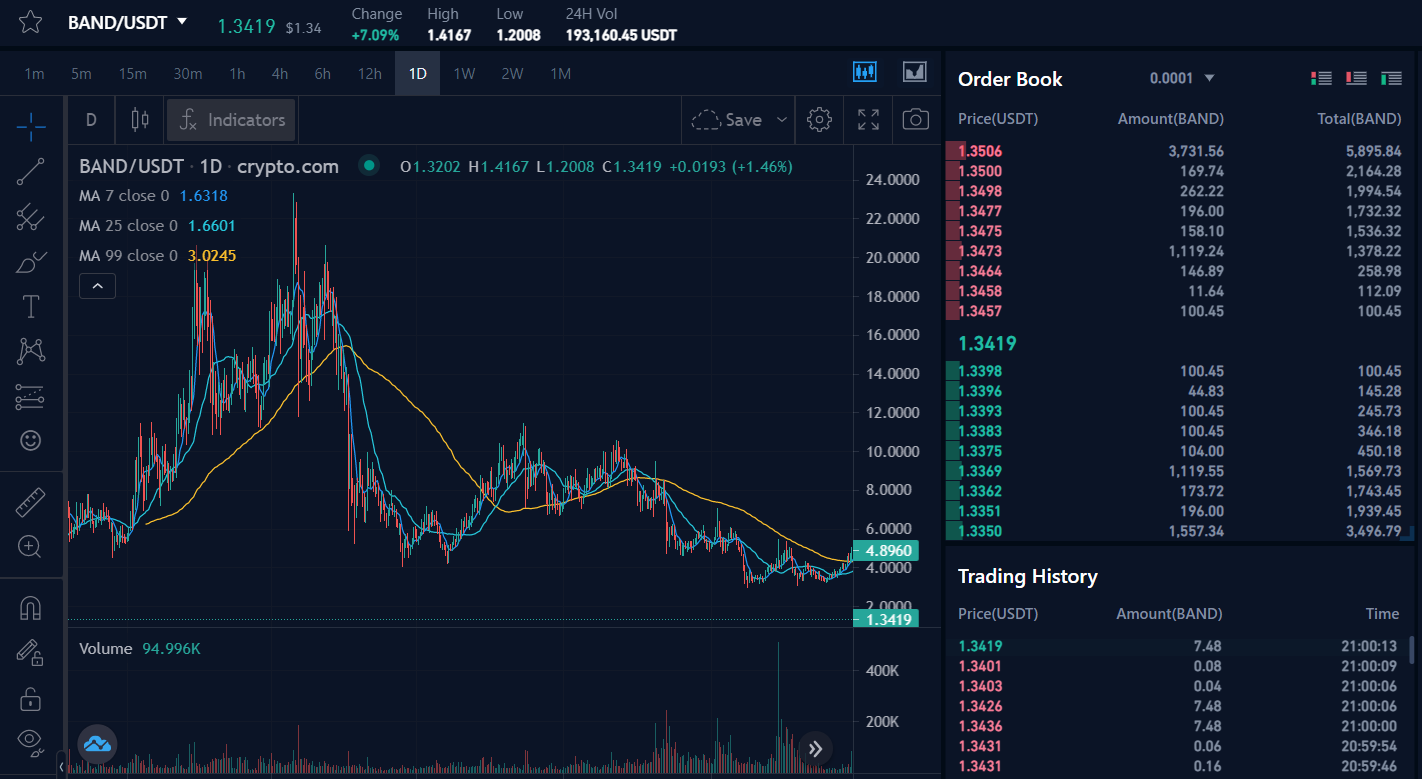 BAND Token Listed on Crypto.com Exchange
Since then, the price has shown one major rise, which happened in September last year, when the price peaked at $10.82. Moving forward, continuing the same trend this year, the price has been falling. This is very much because of the crypto crash that has enveloped the entire market.
As of now, the BAND token trades at $1.56.
The token witnessed a surge of 20% recently, and many believe this could be an indication of a new bull run for the token. Even though the token has fallen back close to the value it initially picked up from.
Here are a few predictions that estimate where the token will be in years to come. Depending on that, you can decide for yourself if this is a good time to buy it or not.
Your capital is at risk.
Should You Invest in BAND Protocol?
There are several analyses of the token available online, making predictions in both directions.
A few believe the coin will follow a downward trend and reach a price below its ICO price this year. But looking at the current charts and price movement, that seems unlikely. Unless a bear runs and decides to drag the token price with itself.
On the other end, the price can likely cross $2.5. Hopefully, in about a month. The recent uprising makes a strong case for the same. On a longer horizon, the price can be expected to rise another dollar.
Your capital is at risk.
By 2025, the price of BAND will most likely hover around $4, although that's an underestimate considering its price history.
If you are a long-term investor, investing in BAND won't be such a tough decision. The token has strong fundamentals and is sure to rise in price as the ecosystem grows. For someone willing to invest short-term, the token appears to be a decent choice. Lower two-digit percentage gains can be expected.
Investment decisions should be made with proper caution.
Read More:
Lucky Block – Our Recommended Crypto of 2022
New Crypto Games Platform
Featured in Forbes, Nasdaq.com, Yahoo Finance
LBLOCK Token Up 1000%+ From Presale
Listed on Pancakeswap, LBank
Free Tickets to Jackpot Prize Draws for Holders
Passive Income Rewards – Play to Earn Utility
10,000 NFTs Minted in 2022 – Now on NFTLaunchpad.com
$1 Million NFT Jackpot in May 2022
Worldwide Decentralized Competitions
Cryptoassets are a highly volatile unregulated investment product. No UK or EU investor protection.