Crypto winter has arrived and has devalued many larger cryptocurrencies. However, some tokens are witnessing a rapid uptick, with EMA (Exponential Moving Averages) going over 21. These crypto-assets are emerging as the biggest crypto gainers after the crash.
It might be good news to many who're looking to buy the dip, but the current market is going through a rapid transition phase with not much explanation behind it. Therefore, even if you are interested in the crypto offerings we're listing in this article, we recommend that you be cautious about your investment.
1. Universal market Access (UMA): A crypto up by 45% in the past 24 hours.
UMA is at the top among the biggest crypto gainers after the crash. Currently, it is up by 44.81%. UMA price today is $2.76 with a 24-hour trading volume of $233.5 million.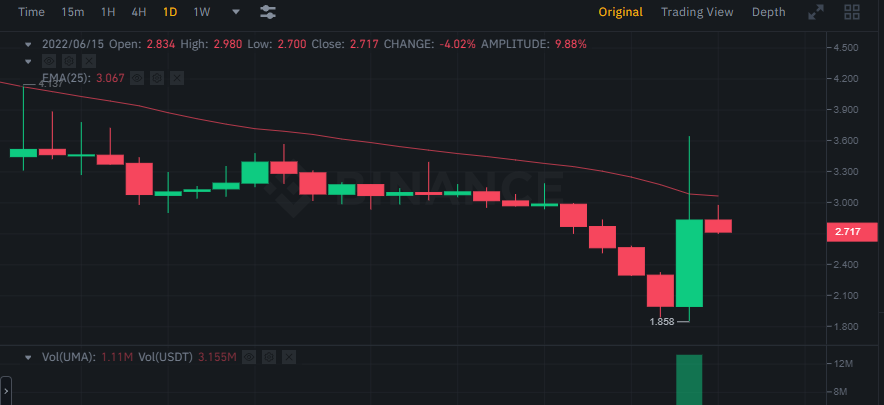 Due to this coin's rapid uptick, the crypto crowd has started to grow apprehensive about it, with many saying that what if it is another pump and dump scheme to get the most out of the crash?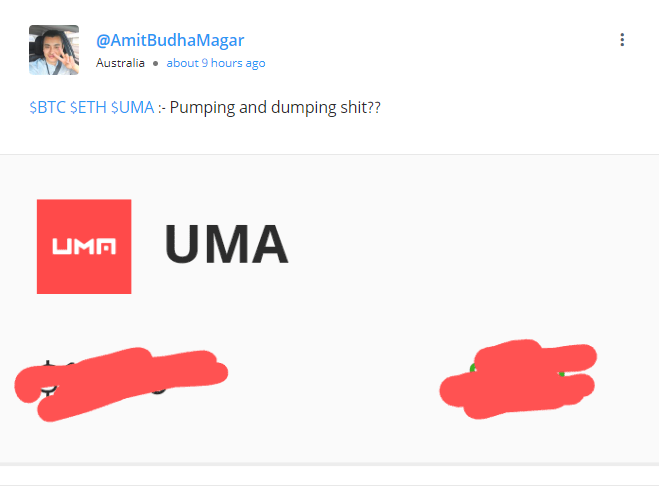 Observing the tweets, our experts found that many are waiting that the price might go down since the token has been performing quite erratically.
Dont get Rekt on Top! Wait Patience is the key! 🙏🙏🙏🤭! #UMA Patience pic.twitter.com/fmKtjUutZU

— Viveksingh Bhadoriya (@vivek_sb98) June 14, 2022
It is important to remember that people are justifiably surprised because of the bear market. We're witnessing a token's upsurge by 50% during the time when all the other cryptocurrencies, even the definitive ones, like ETH and BTC, are in (almost) a free fall.
That said, the crypto crowd couldn't be happier. Experts had already postulated that the current crypto market would make altcoins more appealing as investments, and the rise of UMA and the interest of the crypto crowd are a testament to that trend.
#UMA sur @Coinbase : https://t.co/KhVoDbXVqg

Tomorrow $UMA -> 5$
📈🚀📈🚀📈🚀📈🚀📈🚀
🚀🚀🚀🚀🚀🚀🚀🚀🚀🚀 pic.twitter.com/jLx4VeKWNc

— R_Crypto_Invest 🦍🧙‍♂️🐸 (@crypto2607) June 14, 2022
UMA, or Universal Market Access, is a synthetic asset creation protocol based on Ethereum. Launched in 2018, UMA allows the development of a class of assets that holds value similar to the assets it is derived from but is fundamentally different.
In simple terms, UMA is a protocol that lets Web3 developers create derivatives. The difference here is that UMA makes those derivatives publicly available. Any developer can create and manage their derivatives and other DeFi products on the Ethereum network.
2. Lucky Block: Up by nearly 18% in the last 24 hours
The second token in our list to have witnessed a major uptick is Lucky Block's native token, the LBlock. This token represents a major use case within the crypto market. Living up to its tagline, "everyone is a winner," Lucky Block has gained most people's attention in the cryptocurrency ecosystem.
The platform's recent $1 million jackpot became especially noteworthy in May 2022 as it awarded both winners and participants with LBlock tokens. This particular cryptocurrency has started to gain ground in the crypto market as one of the few reliable play2earn platforms that actually deliver.
In addition to the $1million jackpot for the token holder, the platform also rewarded $1 million to the holder of Platinum Roller's Club NFT. The token's reliability due to its ability to create massive gains over a short period of time is something that the crypto holders are still valuing – pumping the Lblock's price.
For now, the token is only available for trade on LBlock's native platform, Pancakeswap LBank, and Bitmart. However, the recent surge in price has been getting the attention of major cryptocurrency exchanges. It is possible that come July, you'd find LBlock listed on more trading platforms.
CoinMarketCap reports that the token is up by 17.74% in the last 24 hours and is currently priced at $0.000980 -making it a great asset for those looking for an altcoin that can give them massive gains.
Your capital is at risk
3. Origin Protocol (OGN): Up By 13% in the last 24 hours
Origin Protocol is another crypto asset on the list whose value has surged by a good 13.32% in the previous 24 hours. This coin now ranks at #195.
After trending in the red for five straight days, OGN formed a bullish engulfing pattern on late June 13th, 2022, at 14.17%.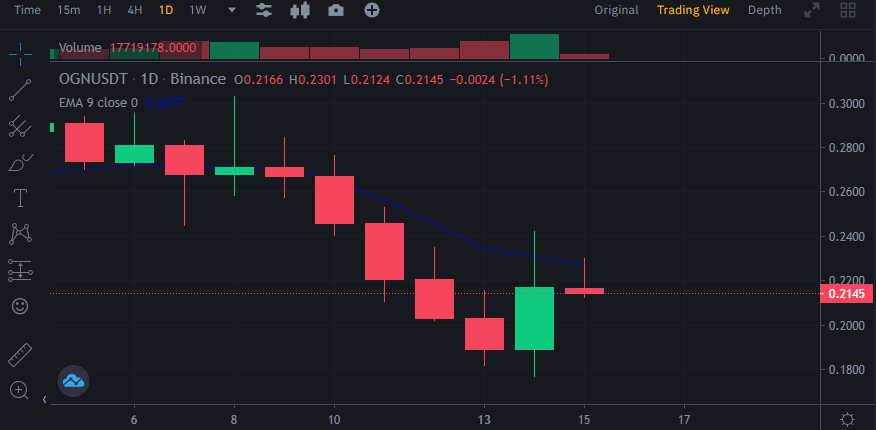 Since the token's recent uptick, the sentiments of the market have flipped. Traders who were waiting to buy the dip the token's rapid decent past week are wondering whether the token's value will fall further or if the current change in direction will go on for a longer period.
Compared to the other crypto assets on the list, the reason for OGN's price is more visible. At the time of writing, Origin Protocol's official Twitter handle declared that it is partnering with Rift Finance to increase the liquidity of OGN.
"It will maximize the incentive of liquidity providers, and also offer downside protection.", OGN wrote.
The announcement has the entire crypto crowd incentive, with many saying that it is time to bring OGN back to its glory days.
Well done guys! Bring OGN back to its glory days 💙

— M (@mxgxx0) June 14, 2022
Origin Protocol is a Web 3 initiative that aims to make DeFi development and NFTs more user-friendly and more adoptive. The protocol's motive is to strip down the crypto ecosystem to its basics so that those who consider it too difficult to understand can participate.
The protocol provides developers with simple-to-use tools to create custom storefronts for their NFTs. Additionally, Origin has its own Origin NFT marketplace. The protocol also has its own Stablecoin known as the Origin Dollar. Algorithmically generated, Origin Dollar does not require staking and automatically generates anywhere between 20% to 150% yields.

At the time of writing, OGN Price is $0.21.
Your capital is at risk
4. Unified Protocol DAO (UNFI): Up by 45% in the last 24 hours
The fourth cryptocurrency on the list to have witnessed a rapid uptick is UNFI. At the time of writing, it is down by 1.86%. However, it is a minute decline as compared massive upsurge it experienced yesterday.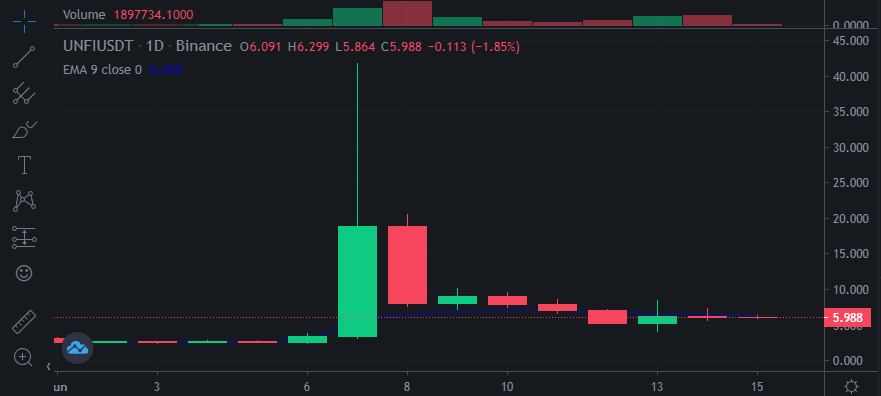 UNFI is a DeFi token of the Unified Protocol project that aims to help financial institutions create their own DeFi solutions that are smart-contract enabled and have cross-chain interoperability.
Built on the DeFi Staking platform Sesameseed, Unified Protocol relies on its DAO – Decentralized Autonomous Organization – to project its growth.
It is not the first time that UNFI has seen a good price increase. On June 7th, UNFI announced a massive upgrade to introduce more functionality to the platform and more incentives for the community. The announcement led to a huge pump of 1700% in UNFI's price.
Since the upgrade details that the UNFI provided were vague at best, the token's sudden increased hit the crypto ecosystem like a whiplash, with many humorously stating if UNFI had found the cure for cancer.
did $unfi discover cancer treatment.? pic.twitter.com/DkOmqZU5D0

— Waiting for 100k $BTC (@rekttrader1) June 7, 2022
UNFI price self-corrected soon afterward. It has since traded at respectable levels compared to the other cryptocurrencies.
UNFI price today is nearing $6 with a 24-hour trading volume of $218 million.
Your capital is at risk
5. Chainlink: The abstraction Layer's token is up by 14%
At the time of writing, Chainlink has seen an additional increase of 4.46% in the last 24 hours. This enabler of universally connected smart contracts created a bearish engulfing pattern yesterday with a strong 13.66%.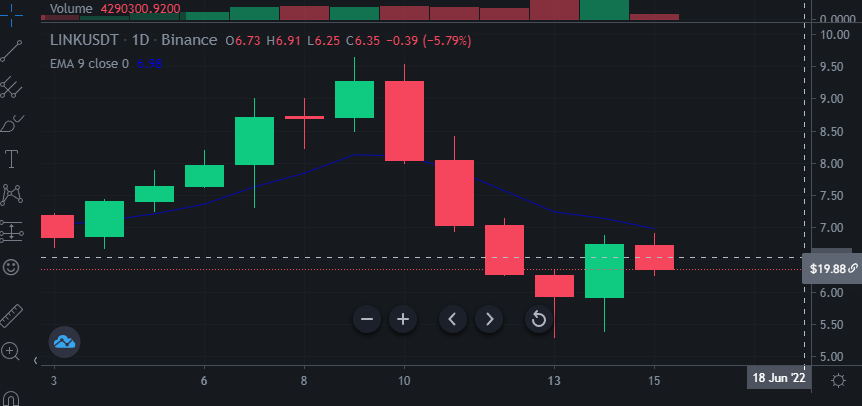 Chainlink has had an optimal run since the beginning of this month. Among all the cryptocurrencies listed in this article, LINK is one that had a respectable number of trades in greens. The strongest low it experienced was on June 10th, 2022, when the news first arrived that we had officially entered the crypto winter.
It pumped on June 14th, 2022, after announcing its staking roadmap. It bolstered the confidence of those looking for staking platforms that allows them to earn passive income away from the volatility of the crypto market.
Chainlink is a smart-contract-enabled blockchain framework adopted by over a few blockchains and many DeFi projects. It provides tamper-proof inputs, outputs, and computations to support advanced smart contracts on various blockchains.
Due to its adaptability to a wide range of blockchain architectures, developers and the general crypto crowd are both bullish about it, contributing to the increase in LINK price.
https://twitter.com/Smart_Contract/status/1536725146160902145?s=20&t=F8-r3obq-K-oOeqKlr_NKA
Your capital is at risk
Does it Signify that the crypto market is bouncing back?
Altcoins have seen a high ascent since the June 13th Crypto crash that brought down Bitcoin to sub $22k levels. Currently, the world's first crypto asset is testing at $21k. Ethereum has also seen a massive downtrend and is hovering near $1k due to its difficulty bomb delay and Almada's dumping of its entire stETH reserve.
Other bearish conditions, such as Celsius's decision to freeze withdrawals, have further made people ask if they are ever going to see an upward trend again.
The news of these altcoins going up is definitely good news for many. However, it is still recommended to be wary. The crypto market is still shivering in winter, and the prices can change direction at any time. While many traders are optimistic that altcoin's rise would offset much of the major crypto losses, there are others who are cautious.
To stay updated about the latest crypto news to get ahead of the curve and make wide investment decisions, stay tuned with IB news.
Read More
Our Recommended Crypto Exchange for U.S. customers
120+ Cryptos Wallet Available
Paypal available
Licensed and regulated in the U.S.
Social trading Platform & copy trading
Low trading fees
68% of retail investor accounts lose money when trading CFDs with this provider.