Metaverse Gaming Platforms run on the NFT economy. They need to have a robust NFT marketplace that helps them stand out.
The rise of crypto gaming has introduced a new concept – an in-house NFT marketplace. These marketplaces are connected to the gaming platforms and provide a unified way to players to trade assets and jump back into the game. Their NFT offerings contain everything from in-game assets to artworks to even batteries to continue playing.
In this article, we are going to take a look at 5 metaverse gaming platforms that are redefining how you view integrated NFT marketplaces.
Battle Infinity: Best Metaverse Gaming Platform with a Robust NFT Marketplace
Battle Infinity is one game set to change how we look at the metaverse. It features Battle Arena, a multiverse of metaverse – allowing players of different games to communicate, engage, and trade with each other.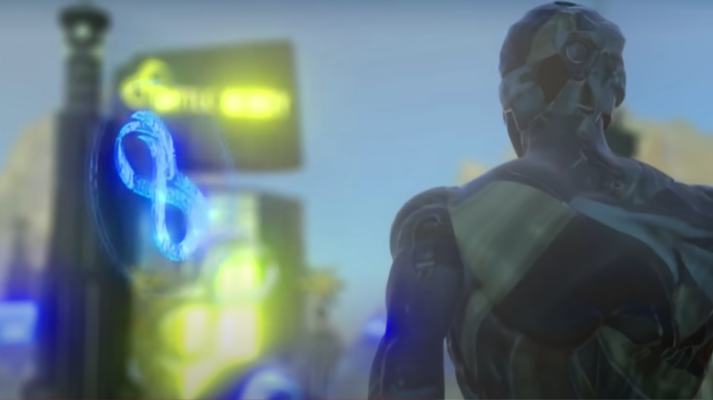 Another standout feature of this metaverse gaming platform is the Battle Market. Here, players can trade in-game assets such as characters are weapons that are tokenized using the BEP 721 smart contract. The in-built tokenization utility assigns rarity to the loot and character assets – dictating their value.
One of the biggest standout features of this metaverse gaming platform is the integration of the Battle Swap function. Battle Swap is the in-house DEX of Battle Infinity – allowing players to directly buy IBAT using fiat or convert their IBAT to other cryptos.
Built on the Binance Smart Chain, Battle Infinity's multi-metaverse ecosystem will bring different types of NFTs that players can trade in the Battle Market. The wide variety of tokenized assets combined with a robust DeFi ecosystem will give players twice the benefits.
The native crypto of the Battle Infinity ecosystem – IBAT – recently went into presale. The presale is now live. The token crossed its soft cap target within a week. The sale has raised 17.53% of the total mark and only 79 days remaining of the presale. You can check out our guide to know how to buy Battle Infinity.
Sky Mavis: Buy Axie NFT on the Axie Infinity Marketplace
If you're looking for a tried and trusted metaverse gaming platform with a robust integrated NFT marketplace, you can't go wrong with Sky Mavis. If statistics are to be believed, it was the gaming platform that started it all. And to this day, it remains one of the best metaverse gaming platforms in the market.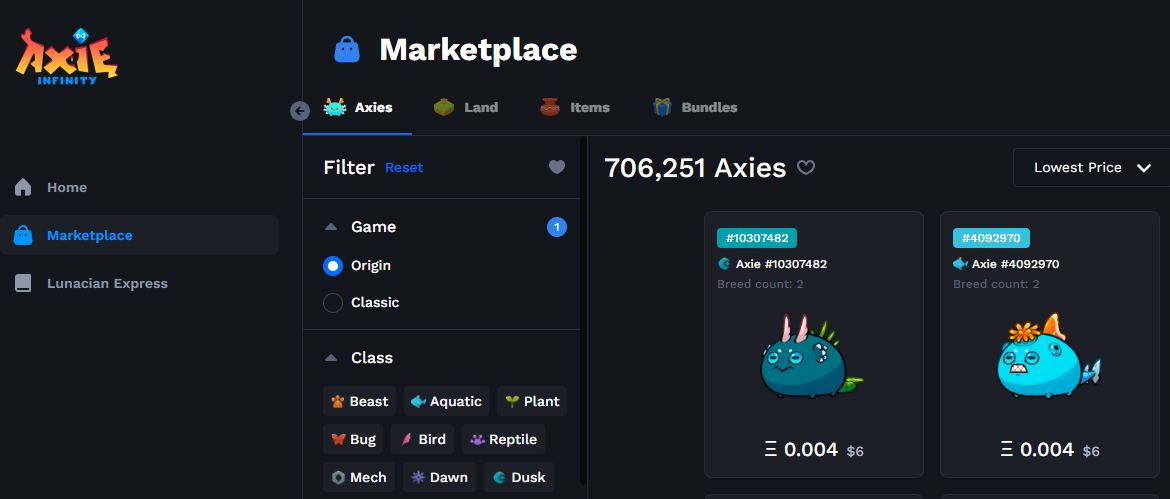 The Axie Infinity marketplace is home to many Axies. You can choose from different classes of these creatures, ranging from beast to dusk. There are over 700k Axies available with prices as low as $6 to $163 quadrillion. Don't get intimated by this inflationary crypto, as even getting a lower-tiered Axie will give you access to many perks. Each Axie has different attributes – allowing you to use various abilities while you battle during the gameplay. While the NFT marketplace of this metaverse gaming platform is limited to one, the variety is more than enough to make up for it. And combined with the fact that it is a play2earn game – you can always hope to be in the green.
Space Misfits: An Enjin Powered Crypto Game with a Robust NFT Marketplace
If you think blockchain gaming focuses too much on "earning" and less on "playing", then Space Misfits just might change your mind. It is a free-to-play crypto game built on the Enjin protocol.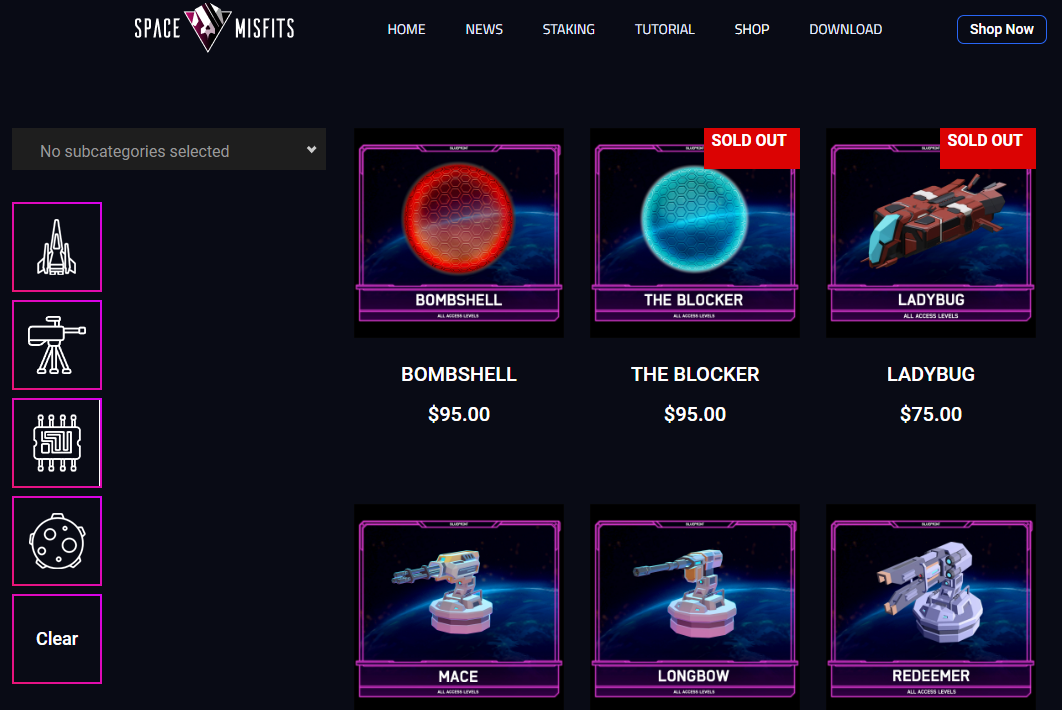 It is a multiplayer game that will have you explore the universe, mine the asteroids for resources, fight NPCs and other players, build, repair and refuel ships, and buy and sell minerals on the open market.
While the current stake is an alpha version game, the NFT marketplace is still up and running. At this NFT shopping center, you can buy ships and their upgrades and arsenal. The price of these NFTs varies from $55 to $125 – which is frugal when you compare it to other metaverse gaming platforms that would have you spend thousands of dollars.
If you want to try out this game just to get the feel of it, it is free to download. Right now, buying the NFT will allow you to support the developers, as when the game comes out in its full blockchain glory, it will be something to see. As you develop your skills in the game, you get BITS, which will allow you to buy weapons to use within the game. Future releases will allow you to exchange these tokens for ERC 20 cryptos.
It is a good Metaverse Gaming Platform to invest your time in if you want to play something that's also fun.
Decentraland: One of the best Metaverse Gaming Platforms with a robust NFT Marketplace
Decentraland is a virtual world where you can buy and sell plots of land via crypto. It also allows you to draw policies on these lands and control how they work. Players know it for its massive earning opportunities as you can rent these lands out to brands and earn almost life-changing money.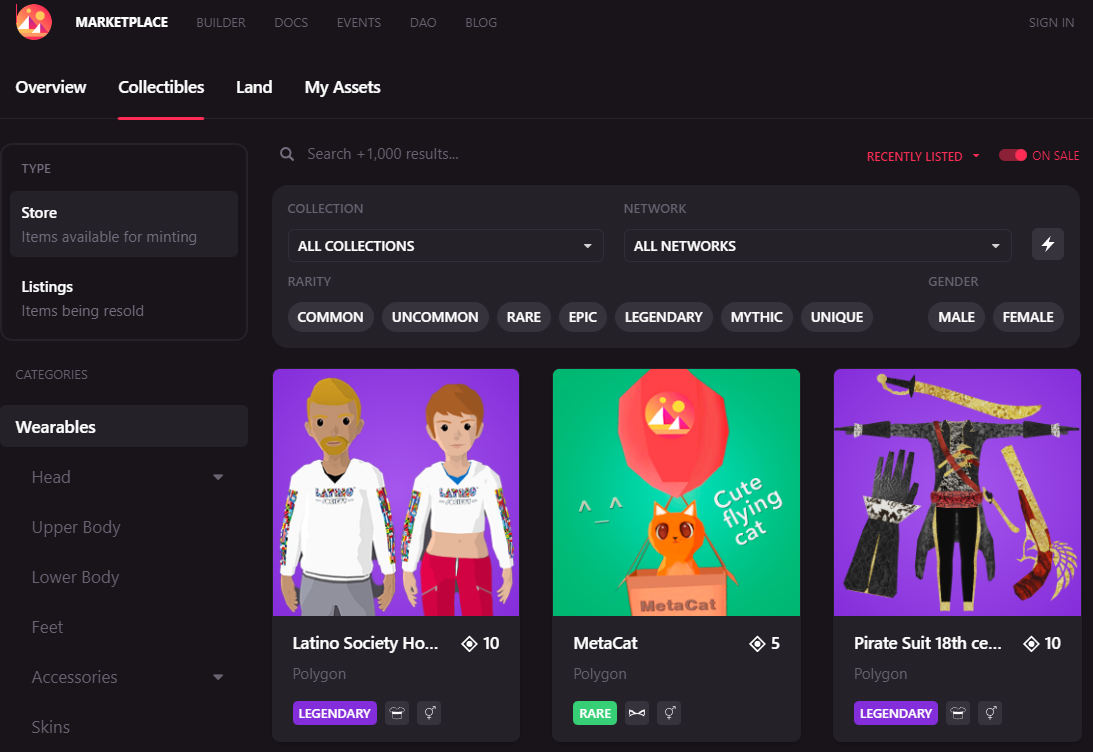 One of the biggest features, however, is not the land but the integrated NFT marketplace. It lets you buy collectibles and lands.
There is a wide array of collectibles available on Decentraland Marketplace. They include wearables for the head, upper and lower body, and feet, accessories, and skins that you can use to jazz up your in-game character. The collectible section also features emotes and names you can buy using MANA.
The Sandbox: One of the biggest Metaverse NFT Marketplace in the world
The Sandbox NFT marketplace has the most robust collection of NFT items in the world. As one of the first metaverses to set foot in the blockchain ecosystem, The Sandbox features a wide array of NFT types.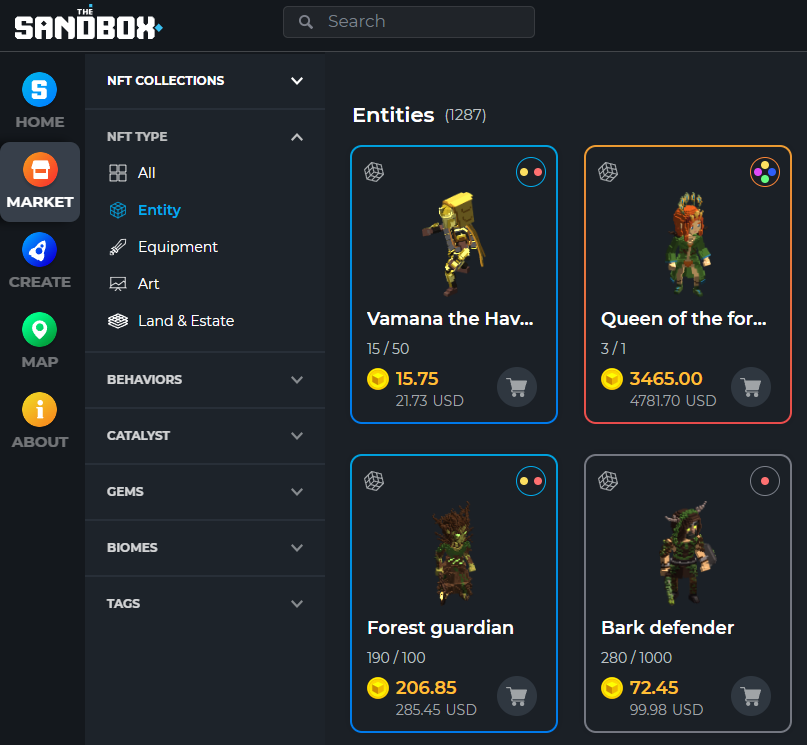 The NFT collections are categorized by entity, equipment, art, and land & estate. As we went further down into the marketplace offerings, we discovered more categories that allowed us the filter NFTs that we were looking for. You can buy each NFT with SAND. To buy the NFTs, you have to connect either your Bitski wallet, Metamask wallet, or Coinbase Wallet.
It is one of the OG metaverse gaming platforms with many offerings on the NFT marketplace. Buy SAND from eToro if you want to check it out.
Conclusion
The world is getting increasingly full of metaverse gaming platforms, and choosing among them may be an issue. In this article, we have explained to you the best 5 metaverse gaming platforms with a robust NFT marketplace. We are the most excited about Battle Infinity, a gaming platform that aims to establish an all-in-one ecosystem that combines GameFi and DeFi.
Read More
Battle Infinity – New Crypto Presale
Presale Until October 2022 – 16500 BNB Hard Cap
First Fantasy Sports Metaverse Game
Play to Earn Utility – IBAT Token
Powered By Unreal Engine
CoinSniper Verified, Solid Proof Audited
Roadmap & Whitepaper at battleinfinity.io